Reserve of paracas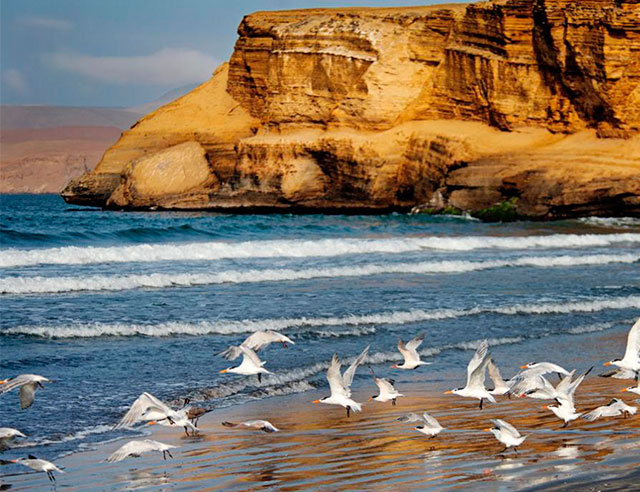 The Paracas National Reserve is located 250 km south of the city of Lima. It belongs to the provinces of Pisco and Ica, in the department of Ica. It covers an area of ​​335,000 Ha.
The reserve has great propitious in the coast for the conservation and calm reproduction of numerous species of resident and migratory birds.
Among the most common are the pelicans, the gray seagull, tendril, skimmer, arctic plover, chuita, guanay, the condor, the Humboldt penguin (in danger of extinction) and parihuanas or flamingos, among other species. Carol Travel Adventure "SAC offers a terrestrial tour, in a tourist transport (public service), or in a private mobility, where you will make small stops in the following places:
The Obelisk: You can appreciate the Paracas desert.
The Historical Interpretation Center: You will learn about the cultural manifestations of the Paracas, as well as the flora and fauna of the Paracas National Park
Red Beach: Called thus, by its distinctive reddish color of its sands.
Isthmus: You will enjoy the desert and maritime landscape.
Lagunillas: It is the only long-term stop of 1:00 am, where you can taste the cuisine of Paracas, based on seafood and fish, you also have the option to bathe. There is no electric power on this site.
RECOMMENDATIONS:
Wear light clothing, as well as hat or cap, sun block, liquid (at least one liter). Because it is a trip of approximately 4 hours (between round trip).
NOTE:
-To carry out this activity you have the option of deciding to carry out this service on a bus or in a private mobility, your contribution being different.
-Public or shared service (11:00 am – 3:00 pm)
-Private service: Hours available to the client (3 hours approx.)