city tour ica - huacachina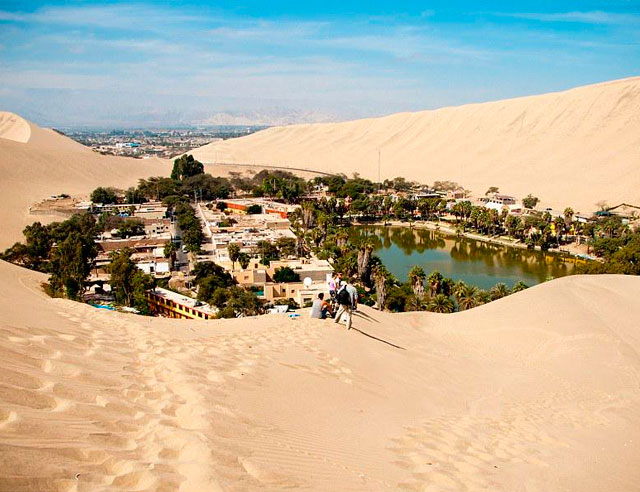 The Ica region is located on the central coast of Peru, with a surface area of 21,327.83 km2. This terrestrial touristic circuit is carried out in a private mobility, starting from the district of Paracas towards Ica (1 hour max.), With
a duration of 4:30 hours max., where you can visit the following places:
THE WINE CELLAR AND RESTAURANT "EL CATADOR":
You will know its facilities and taste the wines, piscos, cachinas.
HELENA CHOCOLATERIA:
You will visit the facilities of the best known chocolate shop in Ica, where you will find a variety of chocolate flavors, and at the same time the option to buy.
THE REGIONAL MUSEUM OF ICA ADOLFO BERMÚDEZ JENKINS:
It is located in Calle Ayabaca, exactly in the block 8 S / No. of the San Isidro Urbanization in Ica. This museum was created on March 30, 1946. It is a must to know all the findings of the Paracas, Nazca, Ica, Huari and Inca cultures. Inside, a variety of canvases and furniture from the Republic era are also exhibited.
THE PLAZA DE ARMAS DE ICA:
In the center of the plaza de armas we can see two large obelisks, which represent the two great cultures Nazca and Paracas that developed in this department; we can also appreciate 7 pools that represent the 7 lagoons that existed in our city which are: Huacachina Lagoon, Orovilca Lagoon, La Huega Lagoon, Saraja Lagoon, San Pedro Lagoon, Laguna Pozo hediondo, Laguna totoral; currently only the Laguna de Huacachina remains. Being these of modern architectural design. In its perimeter is the Municipality of Ica with its beautiful portals and large houses.
THE OASIS OF HUACACHINA:
You will be able to appreciate the immense dunes and enjoy the beautiful landscape that surrounds it. You can also enjoy the experience of Sandboarding and sandbuggies within the dunes of Huacachina, where you will see the entire Ica Valley and the chance to see the sunset.
And finally we return to the district of Paracas, or stay in the oasis of Huacachina, according to their decision.
IT INCLUDES:
Transport
Driver-Guide
Wine and pisco tasting
RECOMMENDATIONS:
Take your ID or passport with you.
The use of sunscreen and water is recommended
Wear light clothing, and a jacket in case of wind
Carry a camera