The Candelabro de Paracas is declared a Cultural Heritage of the Nation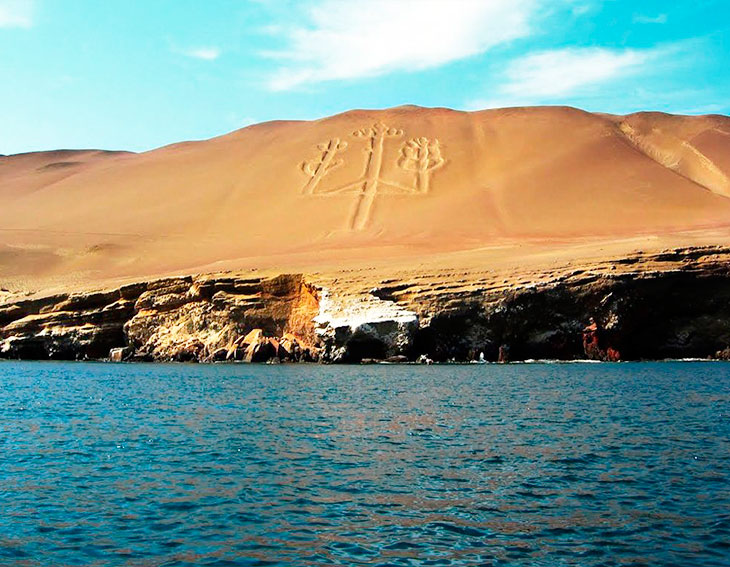 In the peninsula of Paracas is one of the greatest vestiges of the ingenuity of the ancestral populations of Peru: El Candelabro de Paracas.
This geoglyph is a colossal-sized image drawn on the changing sand surface of the Paracas National Reserve and today has been recognized as the National Cultural Heritage.
The Decentralized Direction of Culture of Ica granted him this recognition for being an expression of a work of art in a natural physical space with historical values, both for the chronology and for the enigma of its origin.
Located northwest of the Paracas Bay, El Candelabro de Paracas is a huge geoglyph with an area of ​​170 meters and an average depth of 1.2 meters.
It is believed that it is related to the lines and geoglyphs of Nazca, and like these its origin is unknown. Its main characteristic is that over the years this image has remained impervious, because the strong winds of the Paracas peninsula fill and empty the lines of the sand, which means that they are always well marked.
Preserved by the National Service of Natural Areas Protected by the State (Sernanp), El Candelabro expresses a set of values, symbols and beliefs, manifested mainly in the inhabitants of San Andrés, Pisco and Paracas, who recognize this figure as their own.
On the other hand, it is a benchmark for the location and location of specific marine species for local fishing, as well as being one of the main attractions of tourism in this region.
© Copyright Gestion.pe – Grupo El Comercio – All rights reserved.