Meet the Ballestas Islands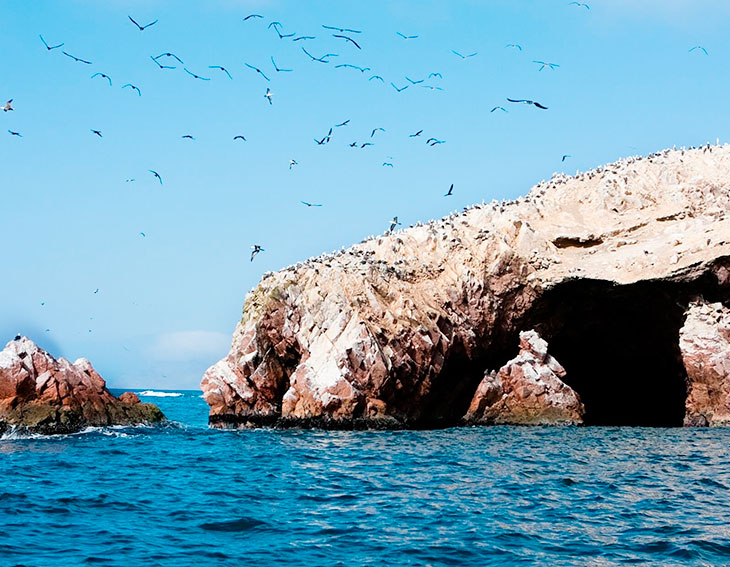 The Ballestas Islands are located in the Pacific, in front of the Paracas spa, there are three small islands, Ballestas Norte, Ballestas Centro and Ballestas Sur; each one has an approximate area of ​​0.12 Km². They are rock formations inhabited by immense colonies of guano birds, Humboldt penguins and sea lions. The islands are the refuge of two varieties of sea lions, fur seals or two hairs (Arctocephalus australis) and the wolf or one hair worm (Otaria byronia) and other marine mammals.
The territories of the Ballestas Islands are a protected natural area and are part of the National Reserve System of Islands, Islets and Guaneras Point of Peru, whose main objective is to conserve a representative sample of the biological diversity of the coastal marine ecosystems of the cold sea of ​​the Humboldt current, as well as ensuring its sustainable use with the fair and equitable sharing of the benefits that derive from the use of resources.
The visit to the Ballestas Islands is one of the most popular excursions from Paracas that takes place in speedboats that depart from the El Chaco dock and lasts an average of 2 hours.
On the way from Paracas to the islands, the boats make a stop in front of the northern part of the Paracas peninsula to appreciate the Candelabra, an enigmatic geoglyph of more than 120 meters on the side of a mountain of sand.
When arriving at the islands, the boats will travel these very close to the shore in order to see the spectacle of large colonies of guano birds, penguins and sea lions in their natural environment. It is not allowed to disembark on the islands, or to throw into the sea.
© Copyright diariocorreo.pe – All rights reserved.